Cassidy Irving, Physiotherapist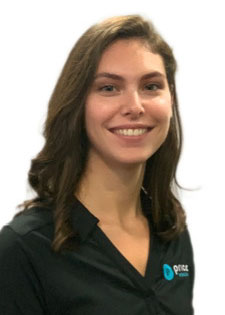 Cassidy grew up overseas in a culturally diverse city which taught her to appreciate the unique differences between people. There, she pursued her passion for travel and staying active. From a young age, Cassidy was involved with many athletic teams, including volleyball, basketball, and softball, which ultimately led to her curiosity in the human body and how it is affected by movement and exercise. Going back to her roots, Cassidy moved home to Canada and attended Western University where she completed her undergraduate degree with Honour's Specialization in Kinesiology and a minor in Rehabilitation Science. Following that she completed her Master of Science in Physical Therapy at Queen's University.
Cassidy has had experience working with professional and university athletes, critically ill patients, weekend warriors, military personnel, amputees, and everything in between! Cassidy likes to take an active, collaborative approach to physiotherapy. She believes in making patients self-managers by empowering them with the tools they need to become active, invested participants in their rehabilitation. To do this, she uses education, manual therapy, and exercise-based techniques to treat the whole person. It's important to her to work together with her patients to create client-centred goals and expectations so that both the physiotherapist and the patient are on the same page and accountable for the rehabilitation progress. Overall, physiotherapy with Cassidy is about finding the unique, evidence-based treatments that the patient wants and needs to thrive in their life.
In Her Spare Time
In her spare time, Cassidy enjoys staying active by hiking, playing sports, and working out. She also loves animals and eating good food. As Cassidy is new to the area, any food/restaurant suggestions would be greatly appreciated!
Contact Price Health today to schedule an appointment.
PHYSIOTHERAPY »

Cassidy Irving, Physiotherapy Resident | (519) 885-5433