Physiotherapy at Price Health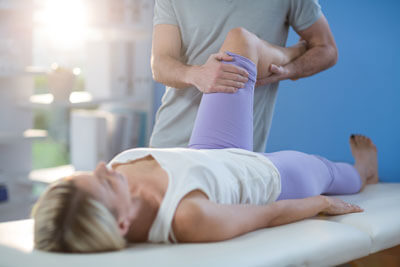 Rehabilitation is an important part of any treatment plan. Performing exercises and stretches at home loosens and strengthens muscles between visits. This decreases pain, makes the treatment more effective, prevents the problem from returning and gives you more power in the therapeutic process!
Corrective exercises are an essential part of all our chiropractors treatment plans because they recognize the importance of providing all aspects of treatment to maximize results. If your therapist is not currently giving you exercises then you are not reaching your full healing potential!
Commonly Treated Conditions
Other commonly treated conditions that require exercises are:
When injuries occur your muscles become weak due to disuse or injured tissue. This can be from a sudden traumatic injury or even a gradual repetitive stress injury like postural problems. As people slouch forward the muscles in the front of their body tighten and shorten, while the muscles on the back of their body lengthen and become weaker. This is called Upper Crossed syndrome and is effectively treated with proper supervised corrective exercises as well as treatment.
Physiotherapy, or physical therapy, is a health care profession which assists people to restore, maintain and maximize their strength, function, movement, and overall well-being.
Physiotherapists have an in-depth knowledge base of how the body works, as well as specialized manual skills to assess, diagnose, and treat symptoms of injury, illness and disability. Physiotherapy includes rehabilitation, as well as pre-habilitation, or prevention of injury and promotion of health and fitness. Physiotherapists often work in teams with other health professionals to help meet an individual's health care needs.
Our Physiotherapists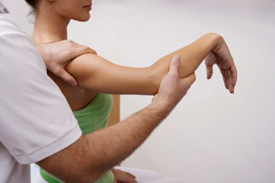 Your physiotherapist, will use his advanced knowledge of how the body works and moves to perform a detailed assessment to diagnose your condition and look for any contributing factors to your symptoms. The techniques used by your physiotherapist are selected based on the combination of factors found in the assessment. Each treatment technique creates its own physiological effect in the body including:
Improve muscular motor control to improve biomechanical function
Reduce compression on nerves and blood vessels to reduce symptoms and increase circulation
Reduce compressive load caused by muscle shortening that leads to wear and tear on the joint surface
Restore lost motion of the joints of the body
Correct any muscle imbalances that may be contributing to your condition by developing an individualized exercise program to stretch, strengthen or relax involved muscles
Stimulate optimal tissue healing of tendons, muscles, and ligaments
Educate on self-treatment and preventative measures
Reduce pain by creating pain blocking stimuli and releasing bodily chemicals (endorphins) that help relieve pain
Improve the flexibility and mobility of muscle, fascia and nerves
Prepare the body for a return to activity
Orthopedic Rehabilitation
Orthopedic Rehabilitation is the assessment and treatment of all musculoskeletal conditions (including back and neck pain, fractures and sprains) caused by repetitive "wear and tear," a sports injury, fall, car accident or surgery. The problem can be acute or chronic. Active exercise therapy, soft tissue release and joint mobilizations are the focus of treatment, to allow you to regain muscle strength, flexibility, balance and full movement and function. Teaching correct postural alignment and core stabilization are also essential components of successful rehabilitation.
Pre-habilitation or "prehab" is treatment prior to an upcoming surgery. Learning specific exercises to strengthen your body prior to surgery will help reduce your recovery time significantly.
Vestibular Rehabilitation Therapy is a type of physiotherapy that utilizes special maneuvers and customized exercises to relieve vertigo, dizziness, visual disturbance and/or imbalance.
SFMA is an advanced movement-based diagnostic system used to clinically assess the fundamental movement patterns in people with musculoskeletal pain. While everyone will benefit from SFMA, it can be especially beneficial if you are recovering from an injury, not recovering as quickly as you would like or have a chronic problem that hinders your physical activities. SFMA is also a powerful tool to predict potential injuries in athletes and "weekend warriors."
FAQs
What Should I Wear to my First Appointment?
We recommend you wear or bring comfortable clothing to change into for your initial assessment and subsequent treatment (shorts for ankle or knee assessments – a tank top for neck or shoulder assessments).
What is Different About Price Health Physiotherapy?
At PCF, physiotherapy focuses not just on fixing the root causes, healing, and pain reduction, but also on any sport specific demands your activity places on your body and what it will take to return to play. Our physiotherapist uses evidence and normative data to support claims of strength, endurance, and mobility, and injury prevention.
What Treatments are Involved in Physiotherapy?
Our physiotherapists utilize manual, hands on therapy, joint and soft tissue mobilization and manipulation, and myofascial release. Therapeutic exercises are prescribed for a variety of purposes, including mobilizing joints, releasing contracted muscles, tendons and fascia, improving muscle strength and joint stability, improve functional mobility and balance, reducing pain, and enhancing performance. Other effective physiotherapy modalities include acupuncture, ultrasound and Electrical Muscle Stimulation (EMS), video analysis, return to play testing, injury prevention; pre-screening education tools and testing.
Do I need a referral from my family doctor for physiotherapy?
No. You may book an appointment in person with our front office staff, over the telephone, or via email at any time. The referral from a doctor may only be necessary for your insurance provider when you make a claim for reimbursement.
How often are my follow up appointments?
Upon completion of your initial assessment (IA), your physiotherapist will discuss a treatment plan which will help you reach your rehabilitation goals.
Can I combine physiotherapy with Chiropractic or Massage Therapy?
Yes, at PCF, we believe in working as a team, and this includes communication between the physiotherapists, chiropractors, and massage therapists. With the help of your therapist, the most appropriate recovery plan will be created for you, perhaps involving both physiotherapy, chiropractic and/or massage therapy on alternating days to speed recovery. Your therapist is the best person to ask if it is advisable to have both appointments occurring on the same day.
Initial Assessment
We ask you to arrive 10 minutes prior to your scheduled appointment at Price Health so that you can complete your intake paperwork, including a health history. You should also bring a list of your prescription medications to this session.
During your appointment we will take a detailed history of your health concern and assess your functional limitations – that is, what can't you do now that you want to be able to do? What causes you pain? What makes the pain worse? We will then proceed with assessing your movement, range of motion, strength and complete specific diagnostic tests. Your diagnosis will be explained and the proposed, customized treatment plan discussed with you. This first appointment usually takes 30 minutes. Contact us today to get started.
CONTACT US »


Physiotherapy Waterloo, Kitchener ON | (519) 885-5433