About Us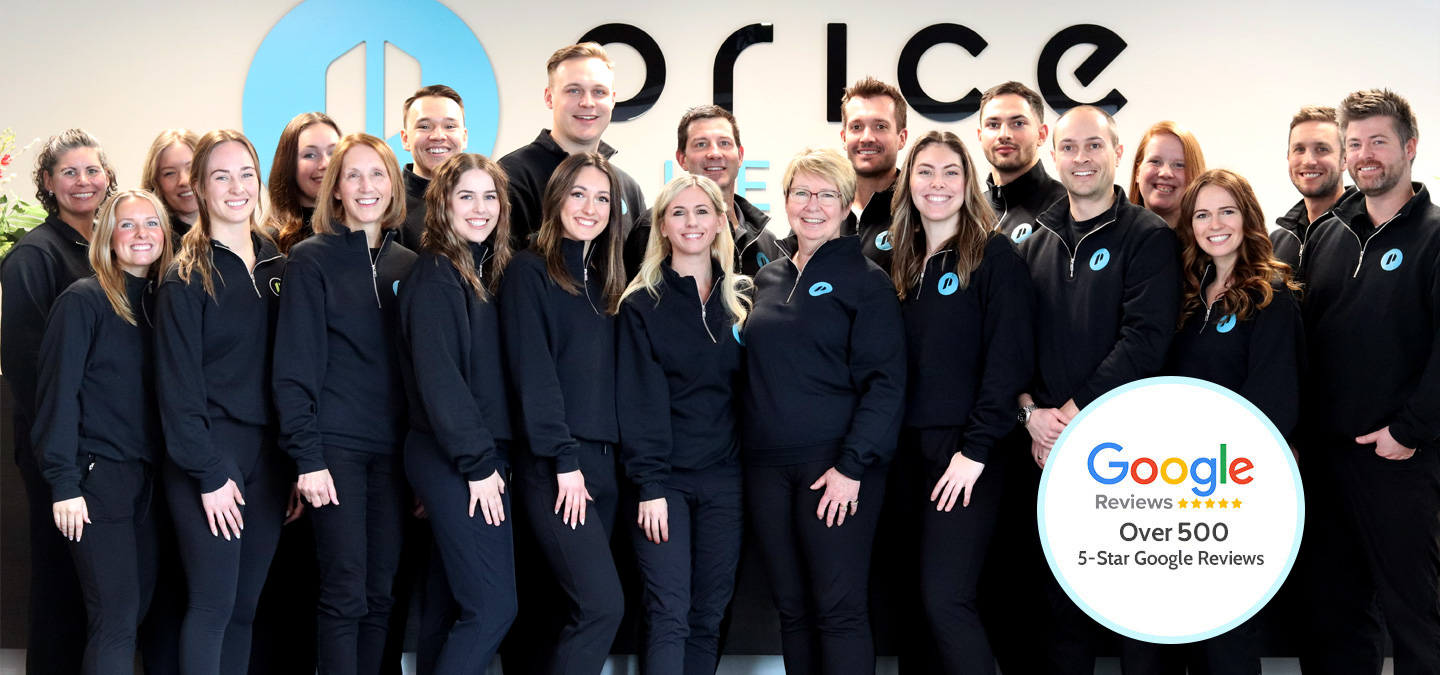 In 2003, husband and wife team, Drs. Jason and Tara Price, opened the doors to PRICE CHIROPRACTIC. They both had a passion for helping others and enjoyed getting involved in the Waterloo community. Between running their clinic and caring for their 4 boys, they volunteered many hours treating at local races and delivering health workshops in the region. Over the years, Jason and Tara built a reputation of being one of the most trusted and caring Chiropractic clinics in Waterloo.
In 2009, Dr. Rob Green joined the practice and brought his knowledge of Functional Movement, Exercise Rehabilitation and Fitness Training. A wonderful partnership evolved and in 2023, Price Health opened its doors to a new modern 7000 sq foot facility.
Continued Growth
Since opening, Price has continued to grow. We offer an integrated approach to care including Chiropractic, Massage Therapy, Physiotherapy and Fitness. We have over 20 passionate professionals on our team who are here to help you on your journey to better health.
The Fit Club by Price Health  is a modern & energetic space where our awesome fitness coaches help people transform their lives! The Fit Club offers a unique customizable system that incorporates personal training, group HIIT fitness classes, nutritional coaching, accountability & a super fun fitness community!
Price Health and The Fit Club continue to work together to provide continuity of care between our therapists and fitness coaches. Our team approach makes us unique and helps us to fulfill our mission, improving lives through health & fitness.
MEET OUR TEAM »
Our Mission
Improving lives through health and fitness.
We want you to feel at home while receiving the best care available. We will design a customized care plan for you based on your health goals. Our purpose is to inspire our community to move, feel and be their best while providing education that can last a lifetime.
Building a Better Community, One Patient at a Time
In January 2017, we launched Price Gives Back. This community initiative was designed to support and positively impact the community outside our clinic walls. Donating $1 for every treatment gives us the ability to not only volunteer our time but to financially contribute to building a stronger community.
Our Magic Moments
We open each of our team meetings by talking about "magic moments." Some people might think of these as miracles or success stories. For us, it's what we get to be a part of every day. There are 75-year-old grandmothers with six-pack abs who deadlift their body weight in our gym. Women who have struggled with daily headaches for years can stop taking their medications. Patients with pain who have been to multiple doctors find relief for the first time with us.
Whether you want to walk normally again, play with your grandkids or run a marathon, we would love the opportunity to work with you!
Flexible Hours
We are open Monday – Friday 7am-6pm. Sept – June we are open most Saturdays 8- 12. Later appointments can be arranged for massage therapy. Contact our team now to schedule your first appointment!

About Price Health | (519) 885-5433