New Patients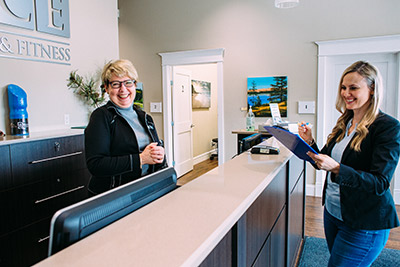 Price Health is a fun, high-energy place that doesn't feel like any health care office you've been to before. It's bright, modern and open. You'll notice people chatting and our team interacting the moment you walk in. We have a true community feel to our practice!
Your First Experience With Us
New practice members will have the option to fill out paperwork ahead of time or arrive a few minutes early to complete the necessary forms to get started. No special clothing is required for your appointment.
On arrival one of our friendly health assistants will welcome you with a tour of the clinic, making sure you know where everything is. We have a relaxing waiting room where you can enjoy a warm beverage and browse through magazines before you get started. One of our practitioners will greet you and walk you back to a private room to begin your consultation.
Your Chiropractic assessment will begin with a thorough history and review of your goals followed by a functional examination including; posture analysis, range of motion testing, orthopedic & neurological testing, muscle & joint palpation and any additional tests required. X-rays are only ordered by Chiropractors, as indicated or necessary. With all of this information, your Chiropractor will design a plan to help you achieve your goals.
Your second Chiropractic visit is a Report of Findings. You will sit down with your Chiropractor to review the results of your assessment. They will communicate your diagnosis and treatment plan and ensure questions are answered before you get started with your first treatment.
Our unique style of Chiropractic includes not only traditional chiropractic adjustments but also a range of soft tissue therapies, acupuncture, exercise advice and other modalities to provide an individualized approach based on a patient's comfort and expectations.
During your first visit the Physiotherapist will take a detailed history, discuss your concerns and assess your functional limitations – that is, what can't you do now that you want to be able to do? What causes your pain? What makes the pain worse? From there the Physiotherapist will assess your movement, range of motion, strength and complete specific diagnostic tests. Your diagnosis will be explained and the proposed, customized treatment plan based on YOUR goals will be discussed with you, including education and exercise demonstrations.
Treatments may include but are not limited to; functional movement assessments, neurokinetic therapy, acupuncture & dry needling, McKenzie therapy, STR/ART, Fascial manipulation, therapeutic taping, modalities – Ultrasound, IFC and exercise prescription.
We recommend booking one hour for your first massage. Your massage therapist will review your history and address your concerns and assess before starting your first treatment. After your massage recommendations will be made for follow up.
Health Assistants are here to help
After your appointment, the practitioner will recommend a treatment plan. Our health assistants will be happy to help you schedule your next appointments and answer any questions you have.
Contact our team now to schedule your first appointment with us!
CONTACT US »

New Patients | (519) 885-5433