Neck Pain at Price Health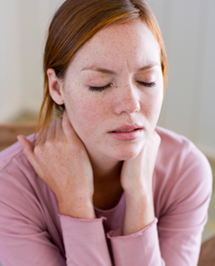 Most people do not realize how much they move their neck during the day until they are unable to do so. The degree of flexibility of the neck, coupled with the fact that it has the least amount of muscular stabilization and it has to support and move your 12-14 pound head, means that the neck is very susceptible to injury. You can picture your neck and head much like a bowling ball being held on top of a stick by small, thin, elastic bands. It doesn't take much force to disrupt that delicate balance.
All Nerves Run Through Your Neck
From the brain the spinal cord runs through a space in the vertebrae (bones of the spine) to send nerve impulses to every part of the body. Between each pair of cervical vertebrae, the spinal cord sends off large bundles of nerves that run down the arms and to some degree, the upper back. This means that if your arm is hurting, it may actually be a problem in the neck! Symptoms in the arms can include numbness, tingling, cold, aching, and "pins and needles".
Problems in the neck can also contribute to headaches, muscle spasms in the shoulders and upper back, ringing in the ears, otitis media (inflammation in the middle ear,, temporomandibular joint dysfunction (TMJ), restricted range of motion and chronic tightness in the neck and upper back.
We associate the neck and upper back together, because most of the muscles that are associated with the neck either attach to, or are located in, the upper back. These muscles include the trapezius, the levator scapulae, the cervical paraspinal muscles and the scalenes, as well as others.
Aberrant movement of the neck joints may also be a result of a whiplash injury. Disc degeneration is a natural part of aging and over time all people will exhibit changes in their discs consistent with a greater or lesser degree of degeneration. However, not all people will develop symptoms for this condition. In fact, degenerative disc disease is quite variable in its nature and severity. There is also no correlation between the severity of degeneration and symptoms that may result.
As we age the vertical height of the vertebral disc is decreased resulting in less shock absorption but can also narrow the distance between two adjacent vertebrae. A loss of disc space may make the spine less stable and the body in turns begins the construction of bony growth called bone spurs or osteophytes which can put pressure on nearby nerve roots or other adjacent tissue.
Those with prior history of back pain, a familial history or those overweight are at increased risk for DDD.
Spinal manipulation, mobilisation, and low back stability exercises can help improve motion and function and thereby limit symptoms of DDD. Surgery in some severe cases may be suggested.
One of the most common causes of neck pain, and sometimes headaches, is poor posture. It's easy to get into bad posture habits without even realizing it – even an activity as "innocent" as reading in bed can ultimately lead to pain, headaches, and more serious problems. The basic rule is simple: keep your neck in a "neutral" position whenever possible. Don't bend or hunch your neck forward for long periods. Also, try not to sit in one position for a long time. If you must sit for an extended period, make sure your posture is good: Keep your head in a neutral position, make sure your back is supported, keep your knees slightly lower than your hips, and rest your arms if possible.
By far, the most common injury to the neck is a whiplash injury. Whiplash is caused by a sudden movement of the head, either backward, forward, or sideways, that results in the damage to the supporting muscles, ligaments and other connective tissues in the neck and upper back. Whether from a car accident, sports, or an accident at work, whiplash injuries need to be taken very seriously. Because symptoms of a whiplash injury can take weeks or months to manifest, it is easy to be fooled into thinking that you are not as injured as you really are. Too often people don't seek treatment following a car accident or sports injury because they don't feel hurt. Unfortunately, by the time more serious complications develop, some of the damage from the injury may have become permanent. Numerous studies have shown that years after whiplash victims settle their insurance claims, roughly half of them state that they still suffer with symptoms from their injuries. If you have been in a motor vehicle or any other kind of accident, don't assume that you escaped injury if you are not currently in pain. Get checked out by a good chiropractor.

Neck Pain Relief Waterloo, Kitchener ON | (519) 885-5433