Pauline Martin, RMT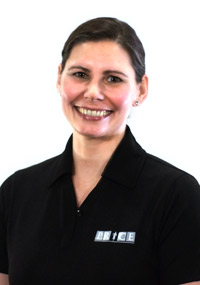 Pauline graduated from the Canadian College of Massage and Hydrotherapy in 2005 and has a background in Exercise Science. During her studies she developed a comprehensive understanding of human movement.
Pauline's treatment style is generally therapeutic in nature assessing and treating the cause of the problem to eliminate the symptoms and holding patterns while incorporating aspects of relaxation into every massage. Her treatments are specific to each individual because everyone has their own set of life experiences. Pauline is proficient in massage modalities such as; massage, myofascial release, trigger point therapy, cupping therapy, and postural imbalances.
Choosing Massage Therapy
Pauline believes in the body's ability to heal itself and that massage therapy is one of the many paths to restoring health and wholeness to the body Pauline chose to pursue a career in Massage Therapy because it allows her to combine her interests in working with the human body and her passion for helping people achieve a pain free healthy life. It is also important to Pauline to provide the public with a safe and comfortable environment. She strives to build on her skills by taking courses to remain current.
She is happy to be part of the multi disciplinary team at PRICE Health because she believes a multi disciplinary approach is essential to maintaining health.
Massage Therapy for Migraines
Massage Therapy for Posture Imbalances
Soft Tissue Release for Diaphragm
Myofascial Release Level 1, 2, pelvis, cervical thoracic (John F. Barnes Method)
Cupping Therapy
In her spare time Pauline loves to go horseback riding at her parent's farm, hiking with her two dogs and playing slo-pitch. She is happy to be a part of the multidisciplinary team at Price Health because she believes a multidisciplinary approach is essential to maintaining health and becoming injury free. Stay Active and Enjoy Life! Pauline is always accepting new clients. We welcome feedback and reply to inquiries in a timely manner.
Give our Waterloo office a call to schedule an appointment.


Pauline Martin, RMT | (519) 885-5433