Dr. Tara Price
Born and raised in Waterloo region, Dr. Tara was actively involved in running, dance, cheerleading and group fitness. Her passion for
health and fitness
led her to pursue studies at the
University of Western Ontario
where she graduated with an Honours Degree in Kinesiology.
After a bad fall at cheerleading practice and a history of back pain from scoliosis, it was Chiropractic care that helped Dr. Tara to get well and stay active. She decided to become a Chiropractor so she could focus on proactive/wellness care, help people move better and share her knowledge of the body and the importance of a healthy lifestyle.
Improving lives through health & fitness
In 2003 Dr. Tara graduated from Canadian Memorial Chiropractic College (CMCC) in Toronto and opened up Price Health with her husband, Dr. Jason Price. Dr. Tara has been caring for her practice members for over 15 years and helps lead a team of health professionals with a common mission, to improve lives through health and fitness.
Dr. Tara looks at WHY we function the way we do to fix the underlying problem and believes everyone would benefit from having a Chiropractor on their health team. Her treatment style includes soft tissue therapy (ART) and adjustments/mobilizations in combination with education, exercise and lifestyle advice to improve health & fitness.
A caring Chiropractor and a mother of 4 boys, Dr. Tara knows first hand the benefits of Chiropractic care through the growing years. She has a passion for helping moms-to-be experience more comfortable and healthier pregnancies. Her prenatal practice brings her great joy as she absolutely loves helping women during their pregnancy and with their transition back to fitness. Dr. Tara is passionate about leading families to better health and wellness.
BOOK NOW »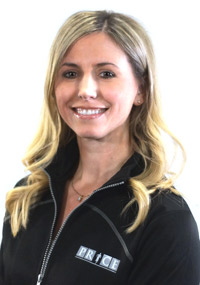 For over 10 years Dr. Tara has enjoyed volunteering at her boys' schools and with various sports organizations. She is well connected in the community and has volunteered at many races and charity events. Fitness has always been a big part of her life. She has over 20 years of experience working in the fitness industry! Dr. Tara loves to read self-care/high-performance books, listen to podcasts during her cardio workouts, strength train, run, bake and cheer on her boys' hockey/school teams.
"She is a wonderful and very knowledgeable chiropractor. I have been seeing her for many years at the clinic and find her to be very trustworthy, reliable and punctual. The clinic she runs with her husband is very well run and the staff is very friendly. I enjoy going into the clinic for adjustments and being able to talk to her as a friend. She listens to your every need and wants to make sure you are in the best health. I would recommend her to my friends and family anyday!" – Cindy
"She represents the epitomy of health care, with a passionate approach to her own health and a compassionate approach toward the health of others. She maintains an active lifestyle and helps her patients achieve the same.
Her level of knowledge in treating pregnant woman exceeds that of most, and she has a fantastic understanding of nutrition.
I highly recommend her as a health practitioner and often refer patients to her office for continued care." – Alex
"I recently worked with her when she coached me through a nutritional cleanse. I had never worked with a cleansing program before and I had some reservations, however, she was thorough in reviewing the program with me and took the time to discuss my personal goals and what I was hoping to achieve. It was apparent from day one that she was passionate about the program and committed to helping me succeed. She was beyond supportive checking in with my progress, offering support and words of encouragement and advice whenever I needed it. She is truly dedicated to helping her clients meet their fitness, health and wellness goals." – Merrilee
"We took our 13 year old son in about an issue with his neck/jaw. She was extremely knowledgeable and more importantly she gave him exercises and stretches to help in between our visits.
Because he is a 13 year old boy, he wasn't doing his homework as diligently as he could have been. She is polite but firm kick in the pants was exactly what was needed.
I am very impressed with her expertise and even more impressed with her people skills to motivate a teenager to play an active role in his own healing process." – Jeremy

"She did a great job of helping me with my back pain issues. She is a fantastic Chiropractor who really cares about her patients. She also was the one who got me started on the Isagenix cleanse which really helped get me on a healthier lifestyle. Tara doesn't just sell the Isagenix products. She is a fantastic coach and resource as you are going through the process." – Mark
"Having known her for 20+ years, I can speak to her level of integrity on several levels; first, as doctor – she has treated me on several occasions for an injury and has guided me gently and expertly through the process. I have, at all times, felt listened to and respected. She takes the time to listen to your story and make a connection. Secondly, for as long as I've known her, she has made fitness and nutrition a priority in her life and that of her family. She is excellent at motivating people to be their best. And lastly, she is a mom to 4 young boys and she possesses and absolute WEALTH of knowledge around pediatric/pregnancy care. She stays on top of industry knowledge, and most importantly, she cares about every individual that comes through her door. I appreciate her on more levels than she can know….and you will too." – Susan

"She is a highly ethical and competent individual who works effectively with others. She sets a high standard of care in all that she undertakes. I can recommend her without reservation." – Carol
"I have been a client for almost 10 years and have always had professional, informative and friendly service. I have learned valuable information from both of you that I can use in my day to day activities to help ensure a healthy and active lifestyle. I have always been pleased with the fast service I receive and the ease of getting an appointment to suit my timetable. I also trust them with the wellbeing of my children as they are both patients as well. You are awesome with my two young girls and have treated them many times for various injuries related to the competitive sports my girls participate in. My family are also patients of the massage therapist in the office and she is also very knowledgeable, friendly and excellent with my girls. Overall the friendly, professional staff are awesome and I would highly recommend them!" – T. S.

Dr. Tara Price | (519) 885-5433