Mark Silva, Physiotherapist
Focused on Client Care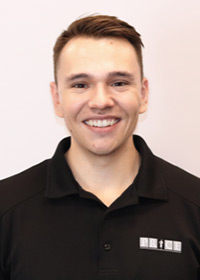 Mark Silva has been involved in health and fitness from a very young age. Mark strongly believes that everyone has the capacity to improve their lives in every area. His approach is client focused, hands on, and multidimensional. He believes that one type of treatment won't work for everyone; but, there is a treatment out there that can work for anyone.
Mark attended Western University for seven years. He completed his undergraduate degree with Honour's Specialization in Kinesiology, and afterwards he successfully graduated as Master of Physical Therapy. As he was studying, Mark worked at a sports and athletic facility. He helped professional athletes, youth athletes, seniors, and weekend-warriors achieve their specific health and fitness related goals.
Mark's purpose behind pursuing Physiotherapy as a career was to improve the value client's received from his care. Mark not only aspires to improve peoples lives through health and fitness; he posses the tools, education, and experience to overcome obstacles (i.e.: mental, emotional, or physical) that stand in the way.
PHYSIOTHERAPY »

Outside the Office
Mark enjoys a number of hobbies including basketball, competitive esports, golf, philosophy, and multicultural cuisine. His dog Oliver is his pride and joy.
Call Price Health to schedule an appointment.

Mark Silva, Physiotherapist | (519) 885-5433