Dr. Evan Braybrook
Dr. Evan Braybrook was raised in Waterloo, and was actively involved in sports and recreation growing up. Pursuing his undergraduate education at the University of Waterloo, Dr. Evan earned his degree in honours biology while also participating in the co-operative education program. His co-op opportunities afforded him interesting experiences such as work in microbiology and genetics. Dr. Evan decided to pursue a career in
chiropractic
in order to help people live a more active and healthy lifestyle. Evan graduated magna cum laude from the
Canadian Memorial Chiropractic College
in June 2015, and earned clinic honours. Dr. Evan is up to date on the latest evidence based treatment methods and is eager to improve the health of the community he grew up in.
I provide chiropractic therapy that is effective in acute injury treatment, pain management, and bio-mechanical assessment."
He has an interest in functional rehabilitation and training to help people recover from injury or long standing postural alterations that lead to musculoskeletal dysfunction. Dr. Evan strives to improve his patients' knowledge of their own health and fitness through patient education.
Chiropractic for Golf
An avid golfer himself, Dr. Evan is Titleist Performance Institute (TPI) certified and has knowledge of the biomechanics of the golf swing. There is an efficient swing for every golfer depending on what their body can do. Identifying musculoskeletal dysfunction or insufficiencies is the goal of the TPI functional movement assessment and they can be correlated to a player's swing characteristics. This can lead to specific recommendations of exercises for each golfer to improve their performance on the course, or to help recover from injury. Dr. Evan is happy to help golfer's improve the function of their body to get the most out of their golf swing.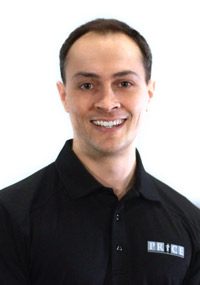 Out of the Office
In his free time, Dr. Evan stays active by running, hiking, and by playing golf and squash. Dr. Evan lives in Waterloo with his wife Tara, and enjoys spending time with his friends and family.
BOOK NOW »


Dr. Evan Braybrook | (519) 885-5433